Bella Zailea
Regular price
Sale price
$19.95 AUD
Unit price
per
Sale
Sold out
Share
No more losing or dropping Dummies!
There's nothing worse than being out and about and losing Baby's dummy ... OR bub throwing it onto the floor every five seconds!

Made with silicone beads on a tough bronze coloured satin nylon cord, our Dummy Clips are perfect for drooly, grubby bubs - simply wipe with a damp, lint-free cloth or a baby wipe and you're good to go! The end bead is a sturdy metal bead that ensures the silicone beads can't be pulled over the knot (unlikely but as silicone beads are very stretchy, it could happen). Our design has been laboratory tested and certified so you can rest assured you are purchasing the best for your baby.
TO USE: Simply put the loop end through the handle of your child's dummy, thread the clip of the Confetti Clip through the loop so the dummy is held at the end of the loop, and attach the clip firmly to your child's clothing so the dummy can reach their mouth.
SAFETY: These are not intended to be used as teething toys. Please inspect before every use and discard at first sign of damage. Replace after 6 months. Please do not leave these items unattended with babies/children. Remove from clothing and store out of reach when child is sleeping. Follow full safety instructions included with your Dummy Clip.

Designed and made in Australia to comply to with mandatory soother holder standard DIN EN 12586:2011 because as always - safety first!

View full details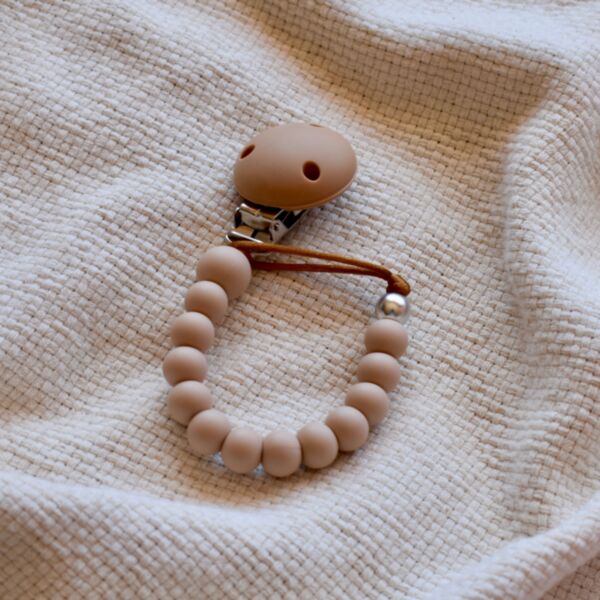 Orders over $80 receive FREE SHIPPING Australia wide.

All other orders are shipped at a flat rate of $8.95 via Australia Post.

Standard shipping times are usually around 3 - 6 business days.

Express orders are shipped at a flat rate of $15.95 Australia wide.